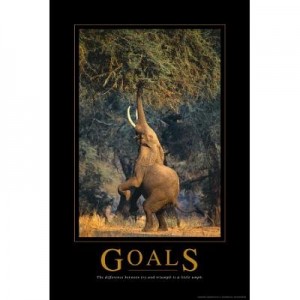 Image source: goals
Have you set your goal? Once you have set the goal how do you achieve it? Finding ways to support your goals and making sure how do you stay on track to get to your desired road to your final goal destination.
Sometimes it is easy to get of the track and get of the path. Sometimes life comes in between, you know unexpected events or daily life things get in a way. I know I have been off goal track a few times, and I am sure I am not the only one who has gotten off the track.  The key is to get back on track to your goal as soon as possible.
Having clear goals with set of steps to achieve them surely will help. It seems simple and easy. But it is true, if we want to take control of where our life is going, we have to stop doing what is not working and start doing things you have been postponing for some day later.
Take a look at your life right now. Is where you want it to be? Can you change, improve it? What is your true personal value and what you want to be and do in your life? Knowing what you want and your values is big step.
Easy Ways How to Stay On Track
1. Be clear and know your core personal values and prioritize them.
Doing this step is important so that you will not do things outside of core values or ethics.
2. Look at your life to see what is working and what can be changed.
3. Set Clear and measurable goals based on previous steps.
4. Make sure your goals are balanced in life. Such as, do not set only money related goal and forget health or relationships. Make sure you have health, wealth and relationship with your final goal.
5. Follow or get mentor. Having a couch or mentor can help you clear your doubts and helps you keep in direction you supposed to go. Mentor can be a expert, a friend, a relative or hired expert. One does not have to spend lot of money to get right mentor.
6. Be with people who have similar goals. It has been said, we do get influenced by friends and family we usually hang out with, so be with right kind of people and with positive attitude.  If you can not find right people to hang out, join a community, organization or forum of similar minded people to reinforce the goal and its road to get there.
7.  Tell other people about your goal, write it down to make sure you are held accountable for your actions. It will keep you on track.
8. When things are getting off the track, ask yourself what is working and what is going right and do not focus on negatives. Making small changes towards goals will have gain you self esteem and motivation to keep going until you get to your goal.
Conclusion:
Sometimes life happens, we may get off the track of our goal. Having clear goals, mentor, a friend who held you accountable will steer you back to your road to your goals and back to track.
Article Source: How To Stay On Track